2015-05-12 Spirit AeroSystems Stock (SPR): The Rally May Not Be Over
---
---
Spirit AeroSystems Stock (SPR): The Rally May Not Be Over
Spirit AeroSystems Stock Price Soared To New Highs, But The Rally May Not Be Over Yet
This article was originally published by See It Market, where I am a contributor
Unusual Options Activity
From March 11th – March 30th, 12,000+ July $55 calls were purchased for $1.00-$1.55 in this $7.6B aircraft parts manufacturer. This is significant in that total call open interest is 19,303 contracts (July $55 calls account for 83%) vs total put open interest of 1,675 contracts.
Fundamental Overview
On April 29th, Spirit AeroSystems (SPR) reported Q1 EPS of $1.00 vs the Wall Street consensus of $0.92 on revenue of $1.74B vs the $1.67B estimate (+0.8% year over year growth).On top of the solid results and forecast for $600M-$700M in positive free cash flow, management said they plan on returning cash to shareholders. RBC Capital projected that it could be $200M-$250M in annual share purchases.
SPR trades at a P/E ratio of 13.62x (2015 estimates), price to sales ratio of 1.08x, and a price to book ratio of 4.10x. In the last three months, 2015 and 2016 earnings estimates have risen to $3.88 from $3.60 and $4.06 from $3.81, respectively. On April 22nd, Boeing said they plan to increase 737 production to 47 aircrafts per month from 42 per month by 2017 (makes fuselage systems, propulsion systems and wing systems for Boeing and Airbus). On May 7th, Cowen maintained their outperform rating and raised their price target for Spirit Aerosystems stock to $67 from $60.
Spirit AeroSystems (SPR) Daily Chart – Technical Analysis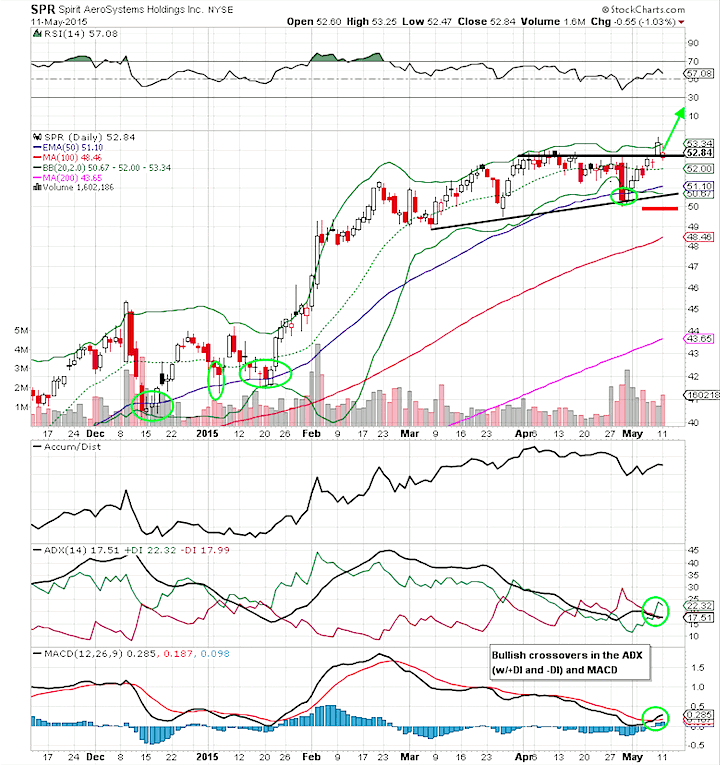 Shares of SPR have been trading in an uptrending channel for more than a year now. When you take a look at the 6-month daily chart above, the stock is starting to breakout above the ascending triangle (resistance at $52.60-$53.00), following a test of support at the 50-day exponential moving average. In the intermediate-term SPR is likely to rally to $56 on a measured move basis; possibly to the higher $50's/low $60's later this year if the long-term uptrend remains intact.
Spirit AeroSystems Stock Options Trade Ideas
Conservative
Buy the (SPR) July 50 call for $3.80 or better
Stop loss- $1.80
1st upside target- $6.00
2nd upside target- $8.00
Or
Aggressive
Buy the (SPR) July $55 call for $1.00 or better
Stop loss- None
1st upside target- $2.00
2nd upside target- $3.00
Follow Mitchell on Twitter:  @MitchellKWarren
---
---