2015-04-29 Options Traders Bet On Bunge (BG) Ahead Of Q1 Earnings
---
---
Options Traders Bet On Bunge (BG) Ahead Of Q1 Earnings
This article was originally published by See It Market, where I am a contributor
Unusual Options Activity – Bunge Ltd (BG)
On April 27th, Bunge options saw the June $87.50/$92.50 bull call spread put on 2,500 times for a $1.75 debit ($437,500 bullish bet) . The call to put ratio was 28:1 and call activity was 22 times the average daily volume. This comes just a few days before Q1 earnings on April 30th (which moved higher on 4 out of the last 7 reports).
Fundamentals
Bunge (BG) is a $12B processor/producer in oilseed, vegetable oils, protein meals, sugar, and ethanol. On April 15th, they partnered with Saudi Agricultural & Livestock Investment (G3 Global Grain Group) to purchase a 50.1% stake in Canadian Wheat Board for $200M. This allows for Bunge to expand their presence in the Canadian wheat market as well as diversify and lessen the impact from the recently weak China operations (mainly on financing deals and supply).
Hedging strategies that racked up expenses in Q4 are likely to pay off in the first two quarters of the year due to the weakness in overall commodity prices, which could push Q1 earnings back towards to 2013 levels at $1.15 per share.
Shares of BG trade at a P/E ratio of 13.34x (2015 estimates), price to sales ratio of 0.22x, and a price to book ratio of 1.61x. On April 14th, Stephens initiated the stock with an overweight rating and a $100 price target.
Technical Analysis – Bunge (BG) Daily Chart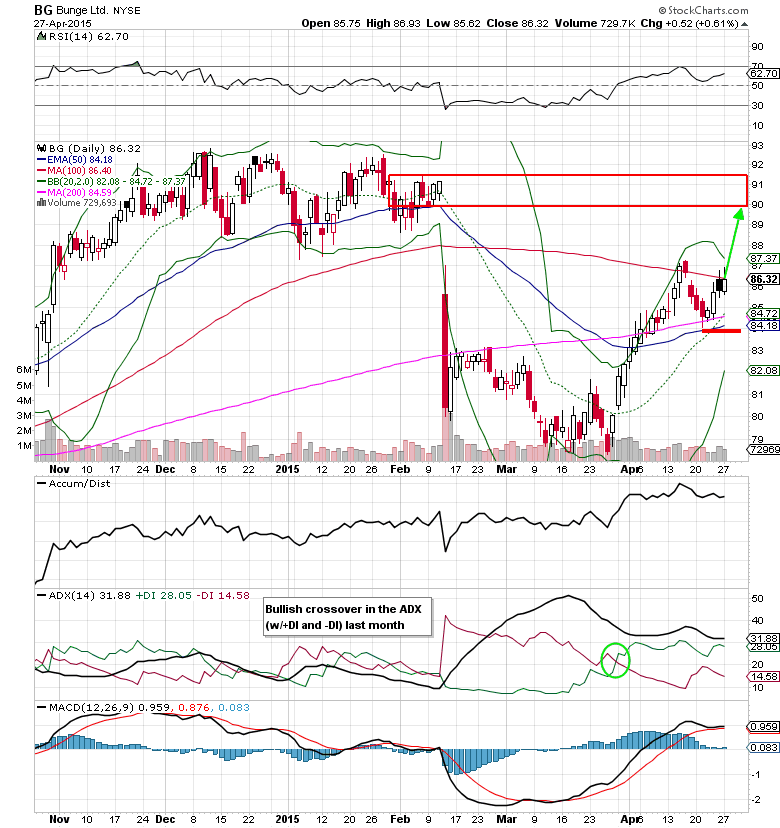 Shares of BG held on the recent test of the 50-day EMA and 200-day SMA, which sets up for a gap fill to the $90-$92 area in the coming months. Stop losses on long stock positions can be placed under $84 (reward/risk ratio of 3:1).
Bunge Options Trade Idea
Buy the (BG) June $87.50/$92.50 bull call spread for a $1.65 debit or better
(Buy the June $87.50 call and sell the June $92.50 call, all in one trade)
Stop loss:  individually managed
1st upside target:  $3.30
2nd upside target:  $4.50
Notes: The breakeven point on this Bunge options trade would be at $89.15, if held until June options expiration.
     Follow Mitchell on Twitter:  @MitchellKWarren
---
---